https://www.americamagazine.org/arts-culture/2017/05/18/meet-women-building-community-christian-writers
This article was written for America magazine by Judith Valente and it might be helpful in sparking ideas about the benefits of creating in community vs. going it alone. I remember standing in a receiving line before a wedding reception and the woman in front of me, whom I'd never met, asked me if I was in a Bible Study. I responded, "No, I like studying the Bible on my own." In about ten minutes she explained why studying it in a group is more beneficial and she invited me to try it out. I've been in various Bible studies for the past 20 years because of her invitation and she was right it is better than studying it alone. The same may be true for you in your creative endeavors. Have you ever thought about joining an artistic community? Here's some reasons why that might work for you. If you already have, please write me a note and tell me why it works (or doesn't work) for you.
Note: One correction – I am not an "original" member of the Redbud Writers Guild as the article states. I believe I joined the Guild about five years ago.
Meet the women building a community of Christian writers
For the members of the Redbird Writers Guild, writing is not only a craft, it is a spiritual practice.
The original members of the group first encountered each other about eight years ago when they traveled from the Chicago suburbs to attend a Festival of Faith Writing at Calvin College in Grand Rapids, Mich. In addition to their shared geography, they all shared a call to write.
They bonded too, says founding member Shayne Moore, over a mutual "love of Christ." They also shared a common belief that writing with faithful trust can lead to transformation—their own and ultimately that of their readers.
The women of the Redbird Writers Guild shared a common belief that writing with faithful trust can lead to transformation—their own and ultimately that of their readers.
When they returned home to Illinois, several of the women met over a glass of wine. They kept thinking back to the redbud trees that were flowering then on Calvin's campus with their bright magenta blooms in full spring splendor. "We thought, 'This is a beautiful metaphor for who we are,'" says Margaret Philbrick, another of the guild's original members—writers seeking to blossom.
Many beginning writers seek out groups where they can share their work and receive constructive feedback. Few of those groups might last as long or have as much success as the e Redbud Writers. Today, the guild has grown to include 150 members in the United States, Canada, Mexico and Australia. Their regular meeting place is no longer someone's living room or a local café in the Wheaton and Glen Ellyn suburbs where many of the women live. They meet via Skype and converse through a private Facebook page, which female writers who also see their writing as a spiritual practice can apply to join.
"We see it as a way of expanding feminine voices in the area of faith and culture," Ms. Moore says of the group's aim.
The guild's philosophy is simple: that women of faith have something important to communicate and they do that best with the support of community. The writers come from a variety of religious traditions, ranging from Catholic to Congregationalist, Presbyterian to Pentecostal. "We are Christian women, but we don't get hung up on the individual core values of each of our traditions. There is unity in the essentials," Ms. Philbrick said.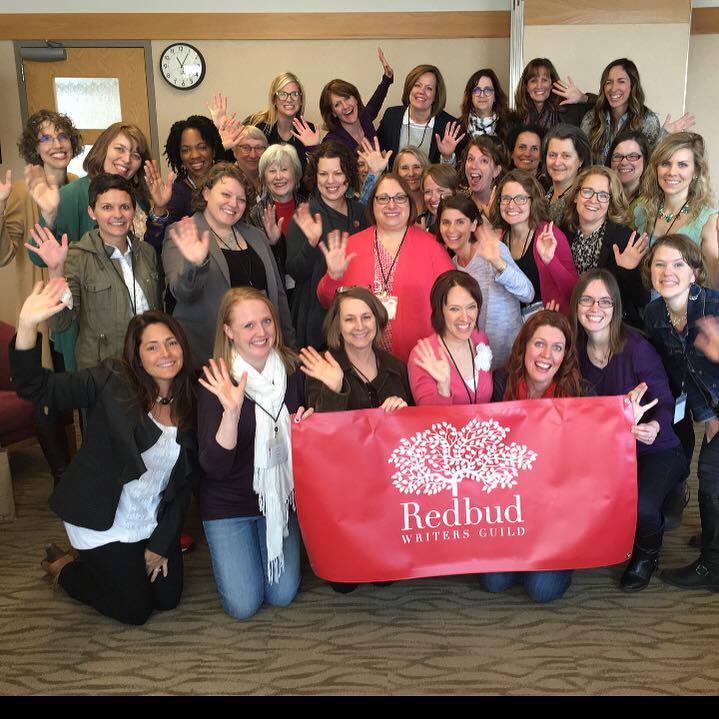 Most writing groups focus on how to improve a manuscript, find an agent or get a publisher. Redbud Writers care about those things too. But the art of writing is never far from their spiritual practice.
This is how Ms. Philbrick, a fiction writer and poet, talks about her creative process: "I want to have the life-giving Storyteller give me my words. So before I type or write a word, I have a practice where I put out my hands and pray that the Lord's spirit will infuse me with his creativity and give life to what I have envisioned," she says. "There is a faith component to my writing that makes doing it more exciting than me just grinding out chapters, going about my task."
Community, not competition, guild members say, is the trademark of their group. Among the Redbud's "Core Values" are respect for the feminine voice and a spirit of non-competitiveness.
"That last thing is what I think sets Redbud apart. We are really grounded in that spirit of non-competition. God's theology is one of abundance and there is more than enough to go around," Ms. Moore says.
"These manuscript groups are deep times of intimacy," Ms. Philbrick says, referring to individual members who meet either on line or in person to discuss manuscripts they are working on. "I'm giving my heart to this group in sharing my work. You have to have a deep level of trust."
The prescription seems to be working. About half of Redbud's members have books out now, or significant other print publications. Ms. Moore is the author of two books, including Global Soccer Mom: Changing the World Is Easier Than You Think, which chronicled her work as an advocate for H.I.V./AIDS treatment and prevention.
Ms. Philbrick's first novel, A Minor, came out in 2014, and she is working on a second novel now centered around a famous painting.
Would male writers be welcome in the group? Well, not exactly. "My sense of men's writing groups is that they very quickly become elitist. Men are going to look for men who are like them," Ms. Moore says.
"Women tend to be more comfortable than men are sharing in groups," Ms. Philbrick says. "Women crave intimacy."
The group aims to encourage emerging writers in particular. The choice of the word guild in its name is an intentional reference to Medieval guilds where artisans worked as apprentices with more experienced artists in order to improve their craft.
"Many of us are moms with newborn babies, getting up at six o'clock to write before the kids wake up," Ms. Moore says.
Every Wednesday at noon, guild members stop whatever they are doing, wherever they are, and say a collective prayer. While most of the conversations take place online, they meet every two years for a writing and spiritual retreat at Techny Towers, a retreat center run by the Society of the Divine Word order outside of Chicago. Then the writing resumes.
The Massachusetts-based religious publisher Paraclete Press recently put out a collection of writing by Redbud writers, called Everbloom: Stories of Deeply Rooted and Transformed Lives, edited by Ms. Moore and Ms. Philbrick. The two said they were careful to include writing from veterans as well as previously unpublished writers.
The anthology offers a snapshot of feminine life in the 21st century, or as Ms. Philbrick says, it reflects the many trains of feminine spiritual thought, like the outspread branches of a redbud tree. Topics of the reflections in the book range from living as an expatriot to the search for home, the loss of a child or a relationship, the suicide of a brother, the violent abduction of a relative, overcoming cancer and surviving rape. Each story ends, of course, with writing prompts to get both novices and veterans started on new work.
"I hope women who feel stuck grinding out the day-in and day-out routine, wondering what it's all for, will pick up this book and get a tap on the shoulder from the Lord and see a bigger view of their lives and what it all means," Ms. Philbrick says. "They just might see what God is doing in their lives beyond the cycle of grocery-shopping and feeding the children. I hope this book wakes them up a bit."